SPOILER WARNING!!
This article contains information from recently released episode(s) and/or manga(s). It may contain SPOILERS.
Continue reading at your own risk.
Takateru Akiyanagi

Statistics
Name (Kanji):
秋柳 貴照
Name (Romaji):
Akiyanagi Takateru
Status:
Alive
Gender:
Male
Family:
Miyuki (sister)
Affiliation:
High School Student
Seiyuu:
Shinnosuke Tachibana
Voice Actor:
Chris Patton
Manga:
Chapter 02
Anime:
Episode 01
Another friend of Yumeji, and member of the writing club. He loves writing haikus and is often seen with a pen and a piece of paper to write on it. He has a younger sister who inspired him to write haikus.
Appearance
He has blond hair.
Personality
Taka is very calm. He's nice, too.
History
Plot
Powers & Abilities
Relationships
Likes Saki Kirishima.
He is best friends with Yumeji.
Trivia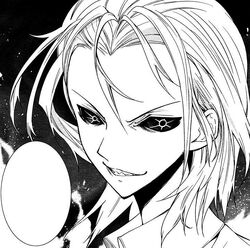 Years ago, when Yumeji explained his ability to read auras to his friends, Takateru asked him to never read his aura, since he found the idea disturbing. Yumeji accepted and is still keeping his promise, thus making Takateru his only close friend he is not checking for signs of Dream Demon possession.
As of chapter 45, he is revealed to be the vessel hosting Pharos Heracles.
Quotes